Apparently, banana bread has been on top 10 most-googled recipes
during this crazy quarantine time! It seems like everyone is making banana bread. Banana bread has always been a staple dessert for me to bake. It's easy and uses those spotted bananas taking up your counter space. When I heard how popular banana bread recipes were becoming, I had to share my recipe!
So ok, I know everyone thinks their banana bread is the "best" which is so silly….because everyone knows my recipe is actually the best lol 🙂 The chocolate chips just take it over the top and make it that much better.
I like to use 3 separate bowls when making this. TRUST ME, everything will just mix and combine all the better doing it this way.
Y'all this is so easy to make and sooooo good. It also helps that banana bread is the epitome of comfort food.
Stay safe everyone and hope y'all enjoy!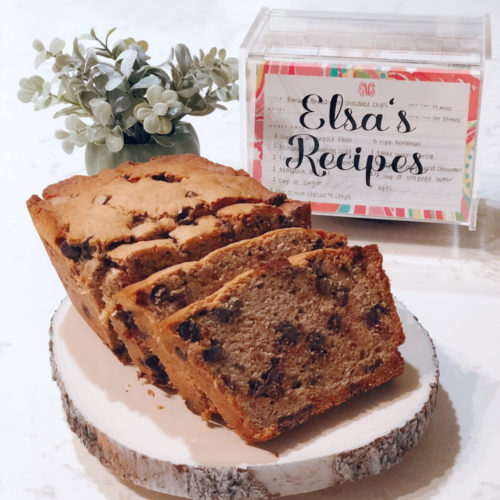 Best chocolate chip banana bread
Ingredients
3

Ripe bananas

1/2

cup

softened butter

1/2

cup

sugar

2

eggs

1

tsp

vanilla extract

2

cups

all purpose flour

1

tsp

baking powder

1

tsp

baking soda

1/4

tsp

salt

1

tbsp

tablespoon milk

1/4

tsp

ground cinnamon (or to taste)

1

cup

sugar

(I personally do 1/2 cup of white and 1/2 cup of brown but either will work)

1

cup

semi-sweet chocolate
Instructions
Preheat oven to 350˚F (180˚F).

In a bowl, add the bananas and mash until smooth. 

Add milk and cinnamon to banana mixture

In another bowl, mix flour, baking powder, baking soda, and salt

In a third bowl, mix butter and sugar until well combined

Add egg to butter/sugar mixture one at a time, beat each egg well

Stir banana mixture into butter/sugar mixture

Stir in dry mixture until well combined

Pour batter into greased 9×13 pan

Bake for 60 minutes or until a toothpick comes out clean.

Cool completely before serving (about 10 mins)